BLOG: Jason Sudeikis Credits Sex With Olivia Wilde for His Weight Loss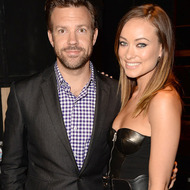 Credit: Jason Merritt/Getty Images
• Jason Sudeikis credits bedroom romps with Olivia Wilde for helping him lose weight
• He explained, "The truth is, I'm not getting up an hour earlier and walking on a treadmill. I have the greatest workout partner in the world...And you don't need a gym membership for that kind of workout."
• The couple began dating in November 2011 and announced their engagement in January 2013
Nice work if you can get it, eh? Full story here.